Pallavi was born in the middle of a cold Australian winter - 12th of July 1997 - and is the apple of our eyes. She has a lot of nicknames - Bunjoos, Panji kudam, Pattani - which mean nothing in particular - but is meant to mean soft and cuddly and pretty and perfect like little peas ..... By the way, Pallavi means "harmony" - it also means "tender".
She has started kindergarten this year and loves it. She misses her old friends (from creche) sometimes but is happy with the new surroundings as well.
She also loves

chappatis, sausages, kiwi fruit, her dolls and her lovely Indian costumes. She loves to dress up and she loves birthday parties. Here's a photo of her at Isabel's B'Day party. This summer she will be starting her swimming lessons. We hope that she will enjoy that. She understands Tamil well but speaks mostly in English as she spends a lot of time in crèche.

Her is a photo with her first friend next door - having lunch together with Aidan who is the son of our close friends Phyllis and David (they used to live next door).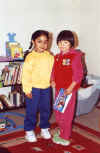 And here is another one with her best friend Esther.

Sometimes we wonder if Pallavi will be an artist when she grows up cos' all the computer paper at home is becoming hard to find as it becomes a piece of art .Here is "Three little pigs " by Pallavi. And another one here called ................."a bat on a tree"
and two more of her latest artistic creations are "picture of Pallavi" and 'picture of Pallavi outside her new home (imaginary new home)"


And more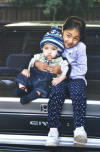 than any one else she absolutely adores her baby brother Murali. He also loves Pallavi a lot and enjoys her storytelling and singing.

Pallavi's old friends from Carnegie Childcare centre.
03/05/03